Note that this is the classical gazpacho recipe from Andalucía, the one we make here in Marbella and its such and staple in the diet of any Spaniard during summer months.
I know the world gazpacho has lately become extra cool and fashionist often use to describe any cold soup that has some form of fruit (such as cherries, apricot etc) but the humble reality of it its that the gazpacho was made here in Andalucía with everyday vegetables water, extra virgin olive oil and some wine vinegar.
The Andalucían Gazpacho its and evolution on the tradition gazpacho made only of crumbled bread, olive oil and vinegar that used to feed farmers of the Iberian peninsula during centuries customary served with a cream like texture, kind of like a tomato juice, if eaten at a restaurant it should come on a bowl (if properly serve it should be a clay bowl) and the waiter would offer to incorporate small chunks of freshly cut tomato, green bell pepper, onion, cucumber and some croutons. At home I have never seen anyone go throu all that trouble.
According to the Wikipedia Gazpacho refers to culinary preparation in the form of a soup (normally could) made with olive oil, vinegar and vegetables, normally made with tomatoes, cucumber, onions, bell peppers and garlic.
This soup it's the bomb, as it is both super refreshing, pack with vitamins and nutrients and satisfying all in one.
Back in the day gazpacho was made using a pestle and mortar, but nowadays the best way to do it its by using a kitchen blender and if like me you like the refinement I also pass it throu a fine sieve as this gets raid of all the skins and pits form the different vegetables.
My recipe: I am not set on a particular recipe, as one year my taste buds are more gear towards onion, and so much towards cucumber, or bell pepper or the other way around. Lately I have been subtracting the garlic as my kids prefer it that way and with less vinegar than my usual recipe.
So my recommendation is; try the recipe below as an starting point and then make your own version of it, there is now right or wrong so just have fun with it and enjoy :
Recipe for 1L /4 cups:
1 Kilo / approx. 2 Pounds of ripe red tomatoes.
1 Green long pepper. (aprox 60gr / 2 oz).
1 Small Cucumber (aprox four fingers wide).
1 Onion (aprox 100gr / 3,5 oz).
1 Bread slice, preferably of old bread( approx. 50 gr / 1,7 oz), optional.
1 Small garlic clove.
3 Tablespoons of quality extra virgin Olive Oil.
3 Tablespoons of vinegar, I use apple cider but wine cider is just as good.
1 Teaspoon of salt.
Cold Water.
Wash well all vegetables, you don't need to peel them (except the garlic and the cucumber) as we will later on pass the trou the sieve but if you are planning in skipping that step and you feel like peeling tomatoes, suit yourself.
Cut all vegetables, remove seeds from the pepper and place them all in a blender along with some water, just enough so that the blender will actually perform at its best. Blend until no trace of vegetables is visible. Add the oil, vinegar and salt and bread if using, blend again until you get the right texture.
You can add more oil, salt or vinegar to your taste as well as some more cold water to get the consistency you desire, but avoid making it to watery, most of the times when I have drank Gazpacho out of Spain the texture is more like the liquid of a Mexican salsa than the creamy texture gazpacho should have.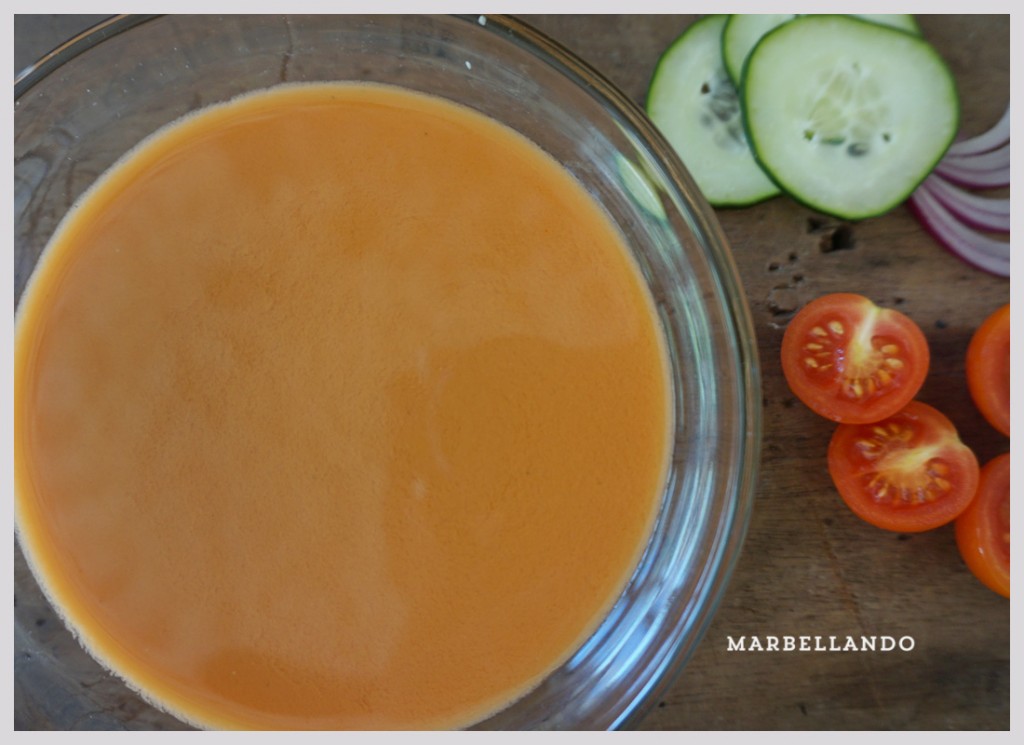 Please note that the vegetables will have their own water, so I did not indicate the quantity of water as you will have to play with it each time you make gazpacho Andaluz.
Lately we are doing an alteration on this recipe, I do everything the same way but just don't use cucumber and garlic at all, the result is a sweater gazpacho that kids do seem to enjoy even more.